A Message from our Founding Rabbi: Rabbi Larry
Meet the Nafshenu Team
"People want their religion to be transformative.
They want it to be responsive to their hearts and souls. Let's meet that need."
Rabbi Larry Sernovitz - NJ Pen, Feb 14, 2017
Our Rabbis
Reb Dovid

Five years ago, David Goodman quit his job as a Detroit-based reporter for Associated Press, packed up his Ford Focus and drove to Philadelphia to begin a new life as a rabbinical student. Now, he's in his next-to-last year at Reconstructionist Rabbinical College and is excited to start a fresh adventure as a student rabbi for Nafshenu.

Last year, David worked with college students through Hillel at West Chester University. Before that, he taught third-graders and tutored b'nai mitzvah students at congregation Kol Tzedek in West Philly. He has lived and studied in Israel, first as a high school exchange student with NFTY and later at Haifa and Tel Aviv universities. For many years, he was a member and lay service leader at Congregation T'chiyah in Detroit. He loves to sing, study Jewish texts and to bring the joy of learning and spiritual connection into Jewish communal life. David and his wife, Pearl, a physical therapist, live in Elkins Park, PA. They have three adult children and (so far) one grandchild.

Rabbi Josh

Josh Nelson is a second-year student rabbi at the Reconstructionist Rabbinical College (RRC) in Wyncote, PA. Josh's pronouns are they/them and he/him. They live in Elkins Park with their partner, Suzanne, and an objectively cute dog. They are also in their second year serving as the Assistant Director of Education / Rabbinic Intern at Beth David Reform Congregation in Gladwyne, PA. Prior to coming to RRC, they worked as a freelance tutor and a religious school teacher in Chicago. They previously lived in Oakland, CA while completing an MA in Biblical Languages from Graduate Theological Union.

As a rabbi, Josh delights in empowering others to explore their curiosities about Jewish texts and practices. He has a deep appreciation for the ways in which gathering as a community can reenergize and refresh us. He is excited to join the warm, inclusive, and thoughtful community of Nafshenu, and he looks forward to partnering with his fellow student rabbi, David Goodman, in providing spiritual leadership for the congregation.
Noah Levine: Music Coordinator
Noah is a junior at Drexel University in Philadelphia, studying Music Industry with a focus on recording technology and music production. He is from central New Jersey and grew up at Anshe Emeth Memorial Temple in New Brunswick, where he discovered his passion for music. Attending URJ Camp Harlam for three years, Noah learned countless songs, prayers, and melodies that intensified his love for Jewish music. High school offered him new opportunities in the Jewish music world, with chances to play with musicians like Dan Nichols, Alan Goodis, and Noah Aronson. These experiences coupled with Noah's many years of songleading, performing, and leading services with different congregations/age groups have given him a unique perspective from which he can help lead prayer through music. At Nafshenu, Noah hopes to help bring music and joy to services, following in the footsteps of two amazing Music Coordinators who have both already brought so much to the community. Most importantly, Noah is excited to work with the students at Nafshenu, fostering their love for both Jewish and secular music as a vehicle for prayer and healing.
Rachael Bell
From the time Rachael was born it was ingrained in her to be part of a Jewish community. She was for a very very very long time. A lot happened and at one point she lost faith. It wasn't until Rachael moved to Washington Township, NJ that she was reconnected with her faith! She found Nafshenu! Nafshenu welcomed Rachael with open arms. Rachael looks forward to growing with you and learning from you!
Rachael is married and has a beautiful boy "Baby Ben". He is her world. Rachael is a huge foodie and enjoys good restaurants and cooking. She loves to go to paint and sips and the BEACH! Rachael owns her own food demo business which is a lot of fun. She travels a lot and gives out food samples!. Rachael believes that it is the BEST JOB EVER!! She is a huge Philly sports fan and can't wait to get season tickets!!
Deb Ferguson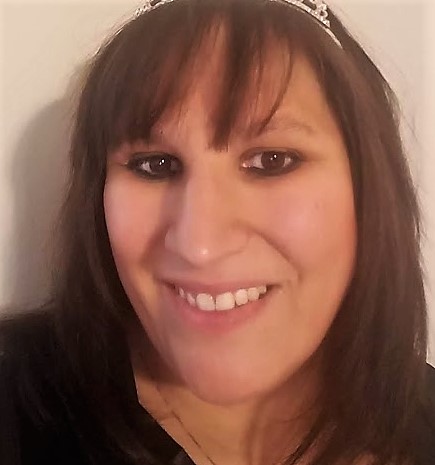 Deb Ferguson was raised in a Jewish household in Voorhees, NJ during the 1980's and 90's. Growing up in South Jersey, her family was a member of a Reform congregation that grew from a small community to a large one in South Jersey. As a young girl, she was proud to become a Bat Mitzvah in 1991 and stay through confirmation in 1994.
In 1995, Deb left her congregation and decided to learn about the religions of the world from anyone who would speak with her. As a student at the University of Pittsburgh in 1996 and 1997, she would enjoy speaking to leaders of all religious communities, including Hare Krishna's Catholics, Christians, Muslims, as well as Atheists and Agnostics. As a result, she learned that G-d was in everything and that religion was not always the same as faith.
While she did not find a Jewish community that she felt was home for her and her family for many years, she always enjoyed a rich sense of faith and never lost her Jewish roots. Once her son, Jaxon, was born, she looked for a community she could feel comfortable in and enjoy raising her son to love and know G-d and appreciate his Jewish faith. That is when Deb found Nafshenu.
Aside from being a wife, mother, and proud member of Nafshenu's Jewish community, Deb works as an investigative paralegal at a firm located in Cherry Hill, where she helps conduct corporate fraud investigations. She also is the owner of The Mighty Pen, LLC, a content writing business that helps companies find their voice. When she is not working or spending time with family, she enjoys helping the Alzheimer's association with their mission and working with the South Jersey Paralegal Association with their goals to help the professionals in her paralegal community. During her free time, she may be caught sleeping for two or three minutes a day!
Shera and Eric Goldstein
Shera and Eric Goldstein are proud to be founding members of Nafshenu.
Shera is the chair of the Core Team and will be leading Nafshenu's Hadracha (Education) program for children in Pre-K through 12th grade. She holds a Master's degree in Education (Reading) and is a certified Reading Specialist. She taught second grade for eight years and currently works as a literacy instructional coach. Shera is excited to be a part of the Nafshenu family along with Eric and their daughter Lila and son Owen.
Eric is Nafshenu's photographer. A lifelong resident of the area and active member of a local synagogue in his youth, Eric is proud to be working alongside other families to make Nafshenu into the type of Jewish community that he and his family can call home. Being a part of this process holds a special place to Eric, as both his maternal and paternal grandparents were founding members of their synagogues in their respective hometowns on Long Island, New York.
Etty Lassman
For three decades, Etty Lassman has helped to make the Katz Center for Advanced Judaic Studies at the University of Pennsylvania feel like a home away from home, assisting fellows with their transitions to Philadelphia as well as their research presentations. She is also the Katz staff photographer. Etty's ongoing work with hundreds of fellows from all around the world – has enabled her to broaden and deepen her knowledge in many fields in Jewish Studies.
Etty served in the Israeli army. She graduated from the Interior Decorating & Construction Drawing program at the Technion in Haifa, Israel.
Etty Joined Nafshenu in 2017 and found an amazing welcoming community. She is happy to be part of the core team as of July 2020. Etty is excited to contribute her expertise as a graphic designer and her proficiency in Hebrew. She is looking forward to enhancing and promoting any Nafshenu activity and to spreading the Nafshenu's message to everyone she meets.
Howard P. Lewis
Howard and his wife Mimi got to know Rabbi Larry through a friend who recommended they attend Nafshenu's High Holiday Service in 2017. As an interfaith couple, Howard and Mimi felt very welcomed by the Nafshenu Community and Howard decided to reconnect with the Jewish community after attending services at other synagogues, and Mimi found a connection with the congregation. Inspired by Rabbi Larry, Howard reached out to see how he could help this growing community, and became a member of the Core Team.
Howard is presently with Spectro Lume, LLC, a Manufacturer's Representative Agency serving the Lighting Community. Howard was the President and Founder of Lighting Alternatives, a manufacturer of Energy Efficient Highbay Fluorescent Lighting Fixtures, which was folded into Visioneering, one of the brands of the Viscor Group of Companies, the largest lighting manufacturer in Canada. Spectro Lume was one of the Manufacturer's Representatives for his company, Lighting Alternatives.
Howard is a Past President and 24-year member of the Board of Director's for the Illuminating Engineering Society (IES) Greater Philadelphia Section. He is a Past Chair and 28-year member of the IES Progress Report Committee; whose scope is to keep in touch with developments in the art and science of lighting throughout the world and prepare a yearly review of achievements for the Society. Howard is also a recipient of the Ralph Enghouser Award; In Recognition of Distinguished Service to the Lighting Industry, and a Section Service Award in Recognition of Service to the Philadelphia Section of the Illuminating Engineering Society.
Howard is the current Vice Chair and 18-year member of the National Lighting Bureau (NLB) Board of Directors. The NLB's mission is to create demand for High-Benefit Lighting® - efficient lighting designed to optimize human performance, health, safety, and commerce; by educating those who make and influence decisions about lighting.
Howard is proud to be a member of the Core Team of Nafshenu
Larry Ottenberg
Larry Ottenberg is a proud father to his two children Aaron and Danielle and husband to his wife Debbie. He has been a resident of Cherry Hill for the last nineteen years. Larry has a Bachelor of Science degree in Engineering from Trenton State College and a Master of Business Administration degree from Rutgers University. Larry works in the corporate facilities field and leads Integrated Facilities Management.
Larry and Debbie decided to join Nafshenu as it is a welcoming community where their children would want to embrace Jewish life and prepare for their Bar and Bat Mitzvah's. The family has been regularly attending services since the founding of Nafshenu and Larry is proud to now join the core team
Lauren Thompson
Lauren Thompson currently resides in Cherry Hill with her husband Stephen and her two sons, Paul (11) and Jason (8). After graduating Cherry Hill High School East in 1991, Lauren went on to receive her Bachelor's degree in Accounting from Rutgers College – School of Business and became a CPA.
As an interfaith family, Lauren and Stephen decided to provide their children with the foundation of Judaism. However, not having grown up connected with the Jewish community through a synagogue or religious education, Lauren had been searching for her place in the Jewish Community for many years. Finally feeling inspired by Rabbi Larry, Lauren became a Bat Mitzvah in 2015.
Both Lauren and Stephen are extremely excited to be one of the founding members of Nafshenu, and is confident that its presence will be able to connect many people who are also searching for their place in the Jewish Community, one where everyone will feel like they belong. Lauren currently serves as Nafshenu's treasurer.
Stacey Young
Stacey is a lifelong New Jersey resident, born and raised in Northern NJ. She graduated from Rutgers University and settled in to Southern New Jersey. Stacey is a marketing manager and underwriter of large commercial accounts at Nationwide Insurance. For fun, she loves to read, write, walk, find new trails, find new beaches, explore the world, root for the New York Yankees, and learn as much as she possibly can. Stacey is the proud mom of Julianne, who is completing her graduate studies at Columbia University.
Strategic Advisory Council
The Strategic Advisory Council is a team of dedicated individuals who serve to create and implement Nafshenu's long term strategic plan and ensure Nafshenu's financial stability.
Rabbi Larry Sernovitz and Shera Goldstein, Nafshenu's president, also serve as members of this Council.
Dr. Amy Articolo
Dr. Amy Articolo, is the Director of Public Policy and Professional Alliances for Novo Nordisk, a global healthcare company with 95 years of innovation and leadership in diabetes care. Amy earned her Bachelor of Arts degree from the University of Pennsylvania in 1993 where she was awarded cum laude honors upon graduation. She went on to earn her Doctorate of Osteopathy degree from Philadelphia College of Osteopathic Medicine in 1998. She then completed her internship and residency at the University of Medicine and Dentistry of New Jersey in obstetrics and gynecology from 1998-2003, where she was elected chief intern and chief resident during her term. She was awarded the Ralph J. Onofrio Surgical Award upon graduation. She enjoys spending time with her family, reading, running, skiing, and traveling.
Brad Molotsky
Brad A. Molotsky practices in the area of real estate law. Mr. Molotsky's primary practice is focused in the areas of commercial leasing, acquisitions and divestitures, property management, financing, public private partnership (PPP or P-3) and real estate joint ventures (including mixed-use development). He also has deep experience in board governance and managing public company issues such as enterprise risk, internal audit, compensation, proxy statement preparation and review, as well as energy efficiency and sustainability and corporate social responsibility.
Prior to joining Duane Morris and for nearly 20 years, Brad served as executive vice president, general counsel and corporate secretary of Brandywine Realty Trust. At Brandywine, Mr. Molotsky was responsible for all legal operations of the company, including acquisitions and divestitures, financings, joint ventures, board matters, insurance procurement, litigation oversight, SEC filing oversight and the legal aspects of capital raising. During his tenure, the company grew from 40 buildings to approximately 300 buildings, totaling 28 million square feet
Mr. Molotsky was named general counsel of the year by the Philadelphia Business Journal in 2014 and NJBIZ in 2013 and was awarded the Martin Luther King Community Service award in 2014.
Mr. Molotsky is a 1989 cum laude graduate of Villanova University Law School, where he was Order of the Coif, and also earned an M.B.A. in Finance from Villanova University. He is a 1986 cum laude graduate of the University of Delaware. Mr. Molotsky has also earned his LEED AP O+M certification. He also has earned an AV Preeminent® peer review rating from Martindale-Hubbell®.
Arthur Skaroff
Arthur Skaroff brings 40 years of synagogue involvement to the Nafshenu Strategic Advisory Council. At Tiferet Bet Israel in Blue Bell, Pennsylvania, he has been a board member and has been chair of the youth, membership, and daily minyan committees. He is currently the head usher.

After earning a B.S. in mechanical engineering from Penn State University, Art was associated with two aircraft companies. He has owned businesses in the automotive aftermarket, and is currently co-owner of Art & Mark's Auto (www.artandmark.com) in Norristown, Pa. Art is the immediate past treasurer of the Automotive Service Association (ASA) of Pennsylvania and is treasurer of the Montgomery County chapter. He lives in Plymouth Meeting, Pa. with his wife, Debra.

Art has been observing the evolving dynamic of American Jewish life and community, and is enthusiastic about participating in the establishment and growth of Nafshenu.
Tracey Diamond
Tracey Diamond is of counsel with Pepper Hamilton LLP, where she practices in the areas of employment law, human resources counseling and employment litigation. She also is a New Jersey Superior Court Rule 1:40 qualified mediator and an adjunct professor at Drexel University Kline School of Law. Tracey is regularly called on to speak and write about employment law issues and is the editor of the HiringtoFiring.law, a legal blog.
Tracey previously served as director of human resources and operations for Jewish Federation of Southern New Jersey. The mom of three amazing kids, Tracey got to know Rabbi Larry while working with him on her daughter, Chloe's bat mitzvah. She is thrilled to be a part of forming this vibrant and meaningful community.
Sun, April 11 2021
29 Nisan 5781
Sun, April 11 2021 29 Nisan 5781